Voice Services which improve your communications
These services are based on our Cloud platform, on which we build a set of Professional Voice Services, adaptable to the needs of your organisation at any time, without the need for investment or maintenance, accessed as a service.
24x7
The Voice Services that Alhambra Cloud offers you always have highly qualified technical assistance, 24×7, 365 days of the year.
Quality
Quality is always guaranteed, due to being services endorsed by the most prestigious quality certifications and by our service level agreements with the main technology manufacturers and suppliers.
Virtual Call Center
Advanced Virtual PBX without limits on growth
Enjoy the functionalities of the most advanced call Center as a service, and without initial investment or paying for periodic updates, through a truly scalable solution based on the needs of your business.
Presence
Find the presence or availability of all users of your organisation at all times.
Voice and Video Conference
Make immediate voice calls and hold videoconferences with any member of your organisation.
Messaging and work groups
Users will be able to write to each other securely through a corporate chat, as well as creating groups.
Desktop WebRTC client
Users will be able to use the WebRTC client on their devices, with an internet connection, from anywhere in the world.
Click to call
Users will be able to make calls or video calls with just one click from their device, from any location.
Call Center
With our Virtual Call Center, you will be able to access Call Center tools adapted to your needs.
Self-supply
The handSIP Virtual Call Center offers you self-supply and templates of phones from the main manufacturers.
Integration with Office 365 and CRM
Centralises all information, integrating the virtual call Center with Office 365 or with your corporate CRM.
Saving
Immediate cost savings, no initial investment, no hardware costs, no maintenance costs.
Flexibility
A flexible service that adapts to the needs of your business by adding users, numbers, functions…
Availability
An always available service that allows you to carry the extension on a landline, mobile, Tablet or PC.
Unique Numbering
Intelligent virtual numbering service to have a unique numbering at national and international level.
Integrate your Virtual Switchboard directly with Microsoft Teams
If you are a Microsoft Teams user and you want this to be your telephony client, you no longer have to pay the Microsoft toll to make calls: now you can choose and configure our cloud service to be able to make and receive calls with a cost several times lower.
Also, if you do not have E3 or E5 Office 365 licenses for the entire organization, you will only have to configure part of the company with extensions of our Virtual Switchboard and you will be able to make calls between these users and the Teams users of your organization.
Similarly, those users who have the Connect client will be able to have Unified Communications capabilities such as video calls, presence, chat, etc., or have a call center for call attention integrated with the rest of the corporate telephony, with powerful routing policies based on schedules and calendars, multilevel IVR's, recording of conversations, Voice mail, etc.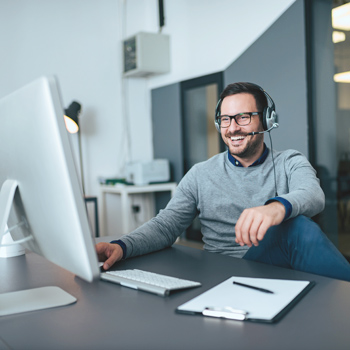 Managed Call Center
Maximum quality and integration
The managed call Center service dedicates a PBX to each organisation. Within the portfolio of solutions that Alhambra Cloud implements for clients (Cisco, Avaya, 3CX, Asterisk), we select the one which is best adapted to the circumstances and use of each company, and implement it on our cloud as a service, dedicated exclusively to the Client.
Maximum Integration
Integration with other applications, reports and specific call Center functionalities or unified communications which do not have the standard virtual call Center.
SIP Trunk
Thanks to the SIP Trunk service, your telephone bill and internet access are adapted based on the needs of your company.
Savings
Reduce the costs of all calls you make, whether national, international or to mobiles.
Availability
We guarantee the availability of your call Center at all times, always offering comprehensive management of the service.
Contact Center
Make user posts into true Contact Center posts.
Enjoy adding Contact Center functionalities to the extensions of your virtual call Center, also allowing the performance of the group to be managed through monitoring of agents, reports, etc.
Easy
Have a professional Contact Center in your organisation (with users and supervisors), in an easy and secure way.
Functionalities
Enjoy a multitude of functionalities: Login/logout with pause, in a queue or in several, recording and listening, monitoring of agents, reports, etc.
IVR
By integrating with our virtual call Center, you will be able to take advantage of all its characteristics, including Interactive Voice Response (IVR).
Availability
A service which is always available at any time, from any place or device.
Fax on the Cloud
Professional fax at an international level, with payment based on use.
A fax service, still very necessary in different sectors, which you will have available with payment based on use, forgetting about communications cards, physical lines, maintenance or concurrency problems. Additionally, it is integrated with any email server by SMTP (Exchange, Lotus, Office 365, Google, etc.).
Savings
Reduce costs for your organisation by forgetting about communications cards, lines and maintenance, etc.
Integration
Exceed the functionalities of conventional fax servers with integration through SMTP or Web Services.
Multi-language
Incoming numbers from all around the world, with multi-language option: English, French and Spanish.
Easy
Administrate your fax accounts, as well as your email inbox, send and receive from your email or website, etc.
Request any information that you need on our Secure Cloud and MultiCloud services. We will be pleased to assist you.
Contact us and one of our consultants will provide you with a quote tailored to the needs of your business.