Temperature Measurement and Capacity Control

Security in the face of mobility
The COVID-19 health crisis is causing many companies to introduce mechanisms to accelerate the return to relative normality as quickly as possible, taking the maximum possible precautions to ensure the well-being of people and prevent the spread of the virus.
Body temperature measurement is one of the most effective mechanisms for the early diagnosis of COVID-19 according to the WHO, along with Capacity Control, global solutions designed to be installed at company checkpoints or in high-traffic areas.
Description
The global solutions for instantaneous measurement of Body Temperature and Capacity Control are designed to be installed at company checkpoints.
The thermal camera, through its web interface, makes it possible to detect the temperature of people in real time. In addition, if you wish, it allows you to launch an instant voice warning and thus stop the spread of the virus.
Deployment
The solution can be deployed in SMEs, large companies and Public Institutions that want to control access to workplaces or high-traffic areas.
Thanks to the wide range of fixed and mobile solutions available, they can be installed in any company regardless of its sector: hospitals, shopping centres, supermarkets, offices, transport stations, communities, educational centres, airports, etc.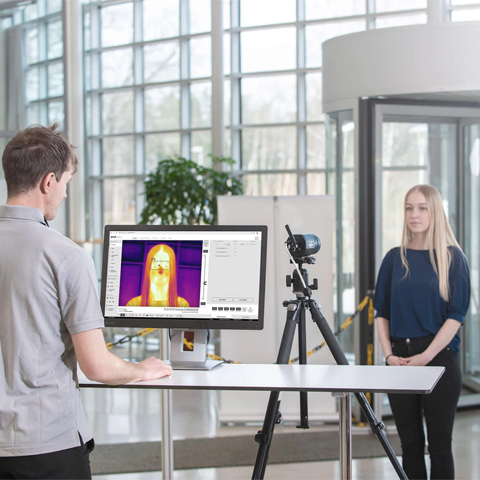 Solution for individual remote measurements
Fixed solution in which individuals, located at a distance of 1 to 2 metres, must remain still for 2 or 3 seconds so that the camera can take the measurement on the tear duct (without glasses).
Display, analytics and alarm embedded in the camera itself
No need for a computer to control it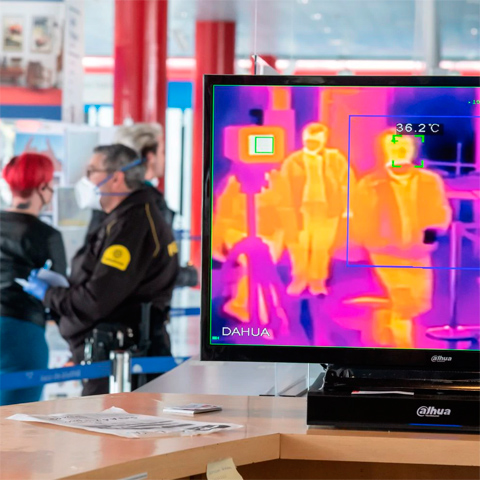 Solution for collective remote measurements and facemask detection
Fixed solution for temperature measurement and image capture at an optimal distance of 3 metres. Recognises human figures, measures the temperature of faces at the central point of the forehead and detects facemasks.
Does not interfere with mobility between people. Does not cause queues.
Measures up to 3 users per second with AI algorithm
Configurable in single or multipoint mode (with single or multiple devices)
Integrates with your CCTV and access control systems
Excludes any heat source that may cause false alarms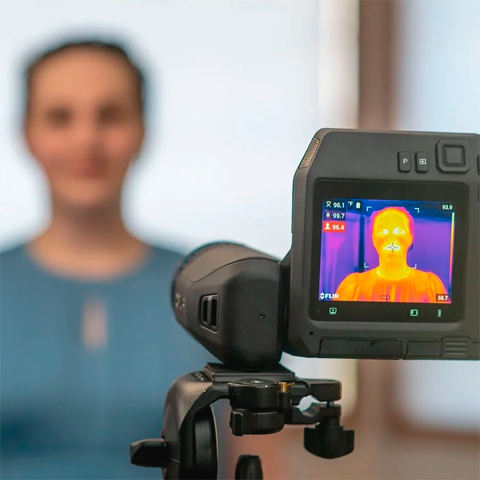 Portable thermal cameras
Mobile solution in which handheld thermal cameras perform the measurement through the quick and automatic detection of the user's tear duct temperature.
Features:
> ±0.5 °C accuracy
> High performance hardware with high thermal drift control
> Alerts by display or audible signal
> Audible alarm if temperature threshold is exceeded
Fast and accurate measurement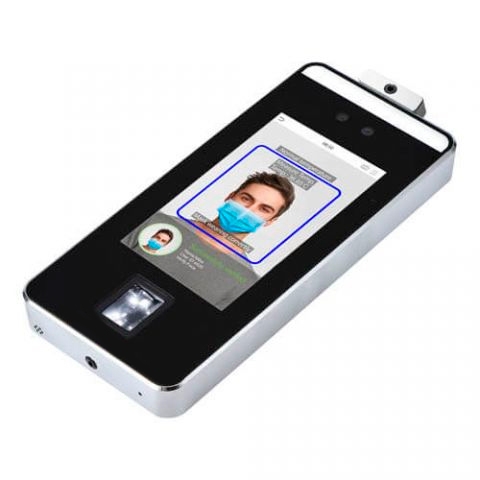 Thermal mobile phones and tablets
There are handheld devices in smartphone and tablet format with the ability to take temperature measurements with high accuracy and even with facial recognition and facemask detection in the case of higher-end devices.
Such devices are recommended for:
> Less frequented facilities
> Stepped accesses
> Situations of constant mobility
Fast and accurate measurement
Capacity control
By means of advanced software for the analysis of conventional images from a camera system (CCTV), capacity control allows you to:
• Count people
• Count people in a queue
• Control distances between people in a queue
• Detect crowds
• Trace individuals
Features:
> Integrated reporting and instant notifications on events on any device
> Display of up to 262 cameras on a single screen
> Mobile application for viewing and control
Professional software guarantee
Always at your disposal
Alhambra offers you a comprehensive installation and maintenance service for all our mobility security solutions:
Installation
Control point installation
System configuration
Camera calibration
Recorder installation
Initial training for use
Maintenance
Telephone support for second level incidents
Handling of incidents involving hardware under guarantee with the manufacturer
Environment recalibration if necessary
We help you with your technology project.