Voice and Data Communications Operator
The voice and data communications of your business, secured 24x7
Communications play an essential role in the day-to-day running of a business. Securing them, sizing them correctly and providing them with the necessary accessibility are vital aspects for strengthening relations between your teams and with third parties, as well as for ensuring access to information or corporate tools.
At Alhambra, in addition to being an IP Operator since 2006 (registered with the CNMC), we are specialists in the implementation of Multi-Operator SDWAN Solutions, to offer you 24×7 secure WAN communications solutions with a design and implementation tailored to the needs of your business.
Communicate your offices
SD-WAN Managed Service

Your offices must be connected securely and 24×7. For this purpose, we secure them by connecting them to Alhambra's central access node, through our SD-WAN Managed Service and controlled by our professionals.
Secured Voice and Data
24×7 monitoring service
As an ISP and IP Operator, our commitment to you is clear: your voice and data communications must work and serve your business seamlessly. To this end, we provide you with a 24×7 specialised technical support service.
And always optimised
Agreements with major carriers
Agreements with the major market operators and the economies of scale generated enable us to combine lines in order to reduce costs and increase bandwidth and availability.
Top Quality
Alhambra has extensive experience in the implementation of Multi Operator Communications Projects, offering a wide range of communications equipment to optimise the quality of your communications.
Redundant and Robust
With private connectivity services, the risks and complexity of management are eliminated, providing a redundant and robust corporate communications network for your business.
Always Available
Multicarrier or multi-operator solutions, where the main network and the backup or secondary network are physically independent networks guarantee availability at all times.
Integral Management
We handle any possible incidents with the major operators for you. Our experience and dedication, as well as the business we do with them, create accessible relationships that work to your advantage.
Orientation and Flexibility
We offer you the technical solution your business needs, thanks to the work of our consultants and the technical capabilities of all carriers. Forget about packaged solutions and fixed technology platforms.
Single point of contact
We add value by contacting you directly. A single commercial and technical point of contact that knows your company and deals with operators on a one-to-one basis. One clearly oriented partner who is always available and near at hand, without you having to go through cumbersome call centres.
Global solutions
With Internet access services, with or without VPN, you can extend your private network to practically anywhere in the world with Internet access, communicating efficiently with your customers.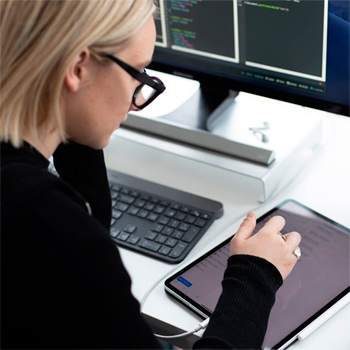 We are an IP Operator
Alhambra was one of only four companies that in 2006 received from the Telecommunications Market Commission the authorisation to provide VoIP services within the public telephone network, providing our customers with telephone access using VoIP technology. Since then, our company has worked strategically to strengthen all Voice Services, with the aim of helping you save on your fixed voice costs and improve your services in a clear way.
Associated Managed Services
Our managed services complement projects in the field of Internet connectivity. They are value-added services that provide solutions for: Security, Network Intelligence, WAN Acceleration, Web Services Balancing, Monitoring, etc., and that complement the solutions provided by Alhambra.
Additional Solutions
As an Internet Service Provider (ISP) aimed at the business sector, in order to ensure the correct sizing, Alhambra provides Internet connectivity, managed e-mail, hosting and domain registrations.
SLA Commitments
We carry out Service Level Agreements according to the availability needs of your company.
We help you with your technology project.